→
 Project Reference:AGL2009-12940-C02-01/02

Summary
   Fungicides are the group of agrochemicals whose residues are most frequently detected in food, and whose concentrations often approach or even exceed the maximum residue levels established by the legislation. Among the most prevalent compounds, a group of new generation fungicides that include most of the analytes covered in this project, i.e. boscalid, fenhexamid, fludioxonil, cyprodinil, pyrimethanil and mepanipyrim, are encountered.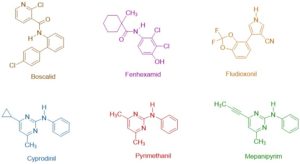 These compounds are present in approximately 10% of the fruit samples analyzed at European level. In the framework of this project, functionalised derivatives (haptens) have been synthesized, bioconjugates have been prepared, and antibodies (polyclonal and monoclonal) have been generated for all these six compounds. These developments have been opportunely patented, and constitute the first immunoreagents that have been generated for this group of plant protection products. By properly combining antibodies and conjugates, it has been possible to develop rapid methods of analysis based on the ELISA technique, which were capable of determining with high sensitivity and selectivity each of the target compounds in different foodstuffs (fruits, vegetables, juices, and wine) as well as in environmental samples (waters). In addition, multianalyte immunoassays have been developed for the simultaneous analysis of different compounds; either the three fungicides that make up the anilinopyrimidine group (cyprodinil, pyrimethanil and mepanipyrim) using an antibody capable of recognizing the three compounds with similar affinity, or a selection of fungicides commonly found in wine. A validation study was carried out with a large number of international wines.
   The analytical performance of these new methods rivals that of conventional instrumental techniques (GC-MS and HPLC-MS) when they are directed towards specific compounds or restricted groups of analytes and a large number of samples. Among the most outstanding advantages of the developed tests are its rapidity, simplicity, high analytical capacity, the possibility of carrying out on-site analysis, and their moderate cost, all that with keeping a very high sensitivity and specificity.