→
Synthesis of haptens, production of antibodies and development of immunoassays
   The objective of our scientific activity is the development of rapid and economic analytical systems. These characteristics are particularly demanded by the agri-food industry with a high volume of perishable samples but with limited analytical resources.

   Today, the analysis of xenobiotics in food (contaminants, residues, additives and adulterants) is approached by instrumental chromatographic methods or by biotechnological methods using receptors of biological origin (antibodies, enzymes or nucleic acids). Immunochemical methods in particular can cover a wide variety of different analytical niches, and due to their great versatility of format it is possible to adapt them easily to the multiple and disparate requirements of the agri-food industry (speed, sensitivity, economy, portability, multidetection, automation, traceability, etc.).
   Among all bioreceptors, antibodies are the most robust, affordable and versatile kind of binding molecule, capable of interacting with small organic molecules in a specific way and with a very high affinity. However, xenobiotics potentially present in food are small organic molecules that are defined as haptens from the immunological point of view. Consequently, for the immunization of the animals and for the development of competitive immunoassays, it is necessary to conjugate these molecules to other carriers of larger molecular weight, such as proteins with or without enzymatic activity. Such bioconjugates are prepared using a functionalized derivative of the target molecule containing a spacer arm and a chemical group adequate for covalent attachment to the carrier. The generation of excellent antibodies and the development of highly sensitive assays require a correct design, synthesis, purification and characterization of functionalized haptens. The parameters to be considered for such functionalization include the geometric, electronic and polarity properties of the molecule, the length, composition and position of the spacer arm, as well as the type of the functional chemical group for its covalent coupling to the protein.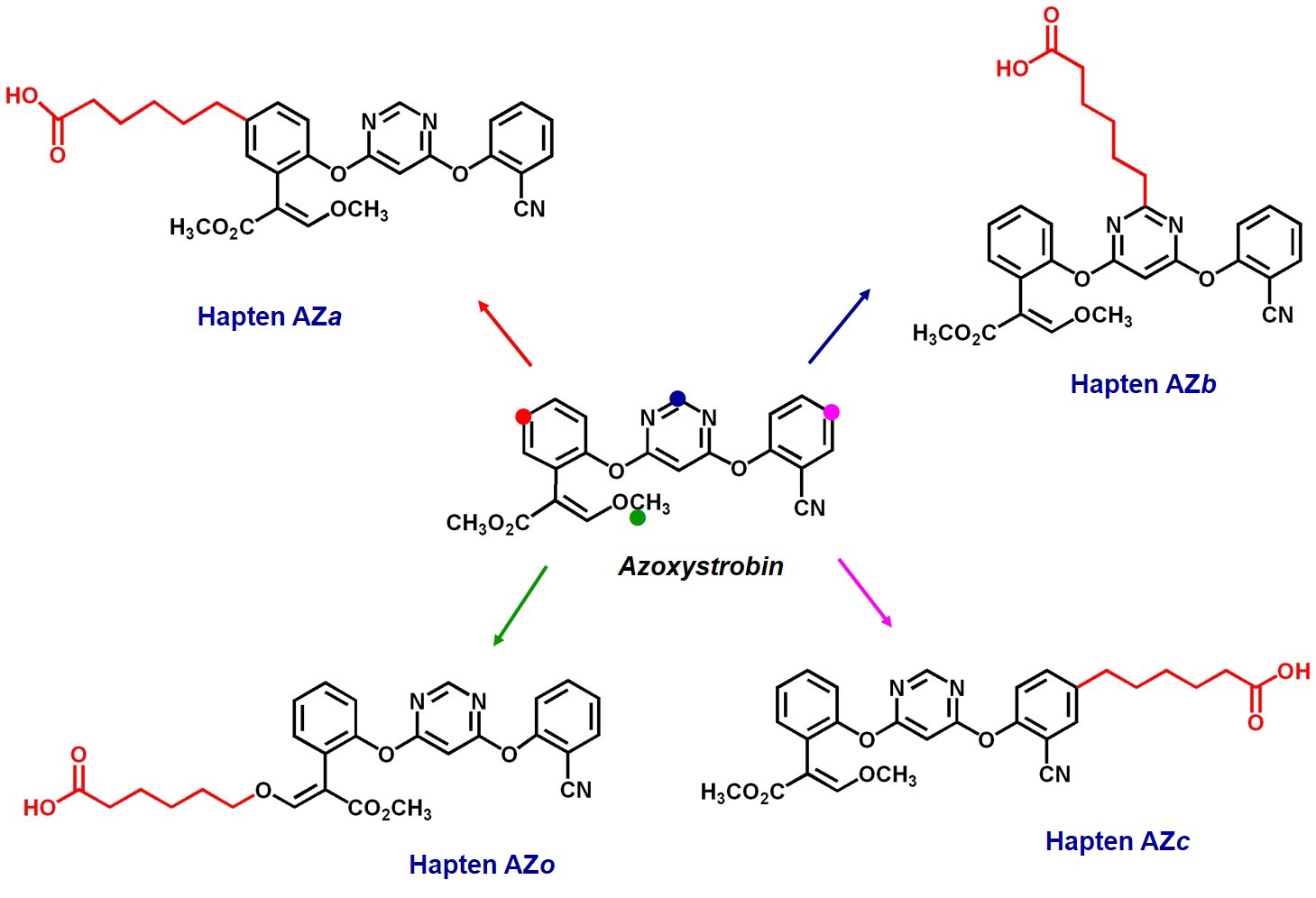 Design and synthesis of analyte haptens (azoxystrobin)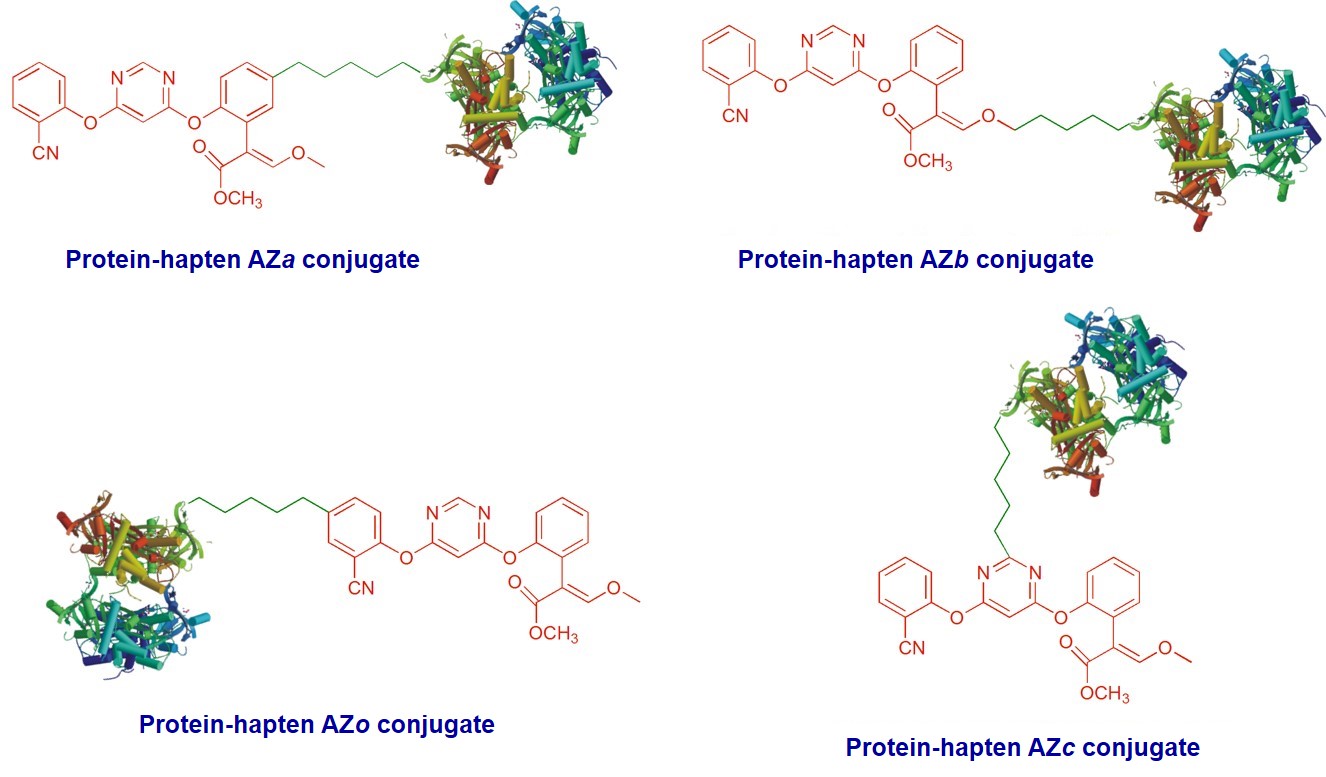 Preparation of immunogenic and assay conjugates
   Antibodies are generated by immunization of experimental animals with hapten bioconjugates following previously established guidelines. Polyclonal antibodies are prepared from the serum of immunized rabbits whereas monoclonal antibodies are obtained from hybridoma cell cultures which are raised from lymphocytes of immunized mice.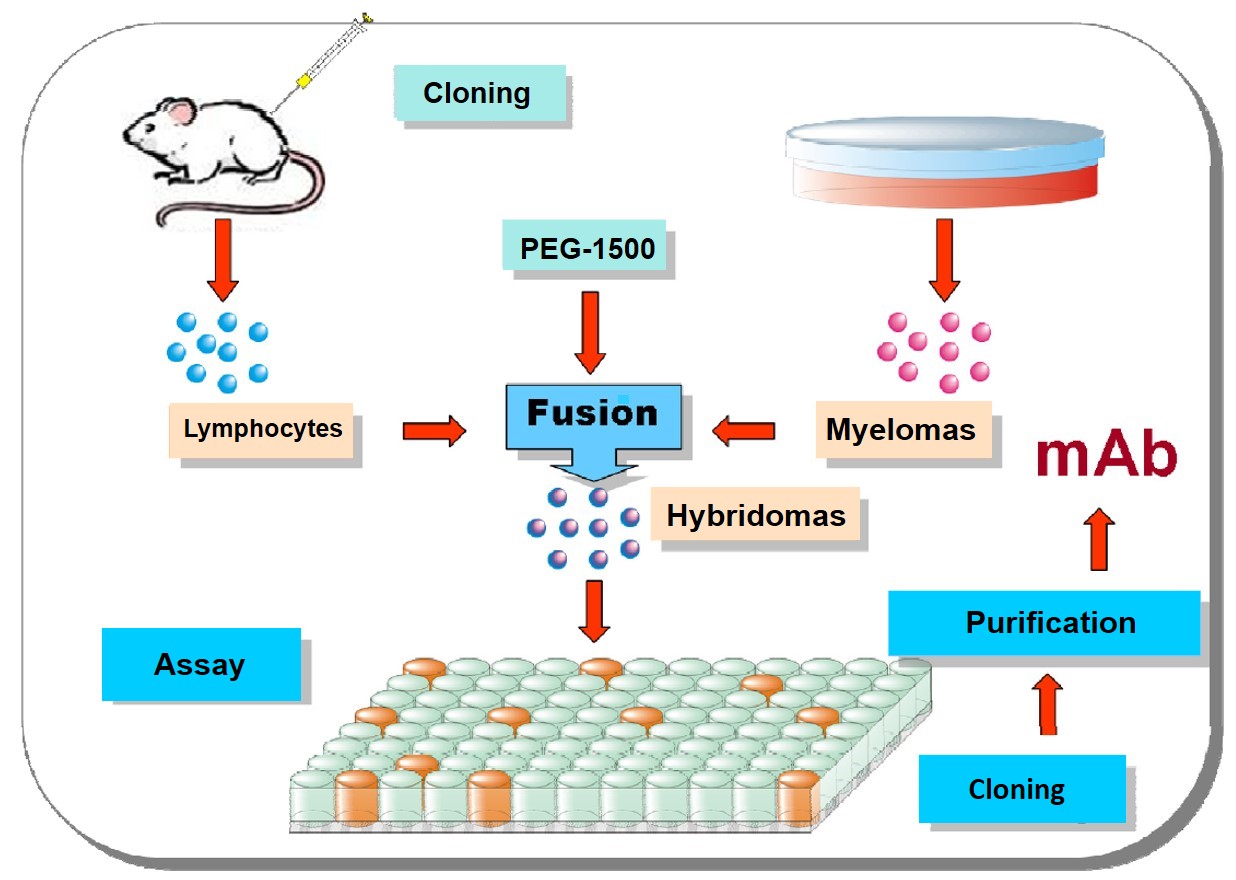 Production of monoclonal antibodies
   There is no doubt that the basic immunochemical method is the enzyme-linked immunosorbent assay (ELISA) which, for the analysis of xenobiotics, is carried out in a competitive mode. This bioanalytical method is generally very selective and can be adapted to different formats in order to obtain qualitative or quantitative results. The most studied format employs microplates, due to their large sample throughput. However, alternative competitive ELISA formats are also being studied; for example, using microtubes or nanoparticles, which may be more useful for in situ applications. On the other hand, flow injection systems using immunoaffinity columns, lateral flow immunochromatography or microfluidic technology devices constitute alternative immunochemical methods.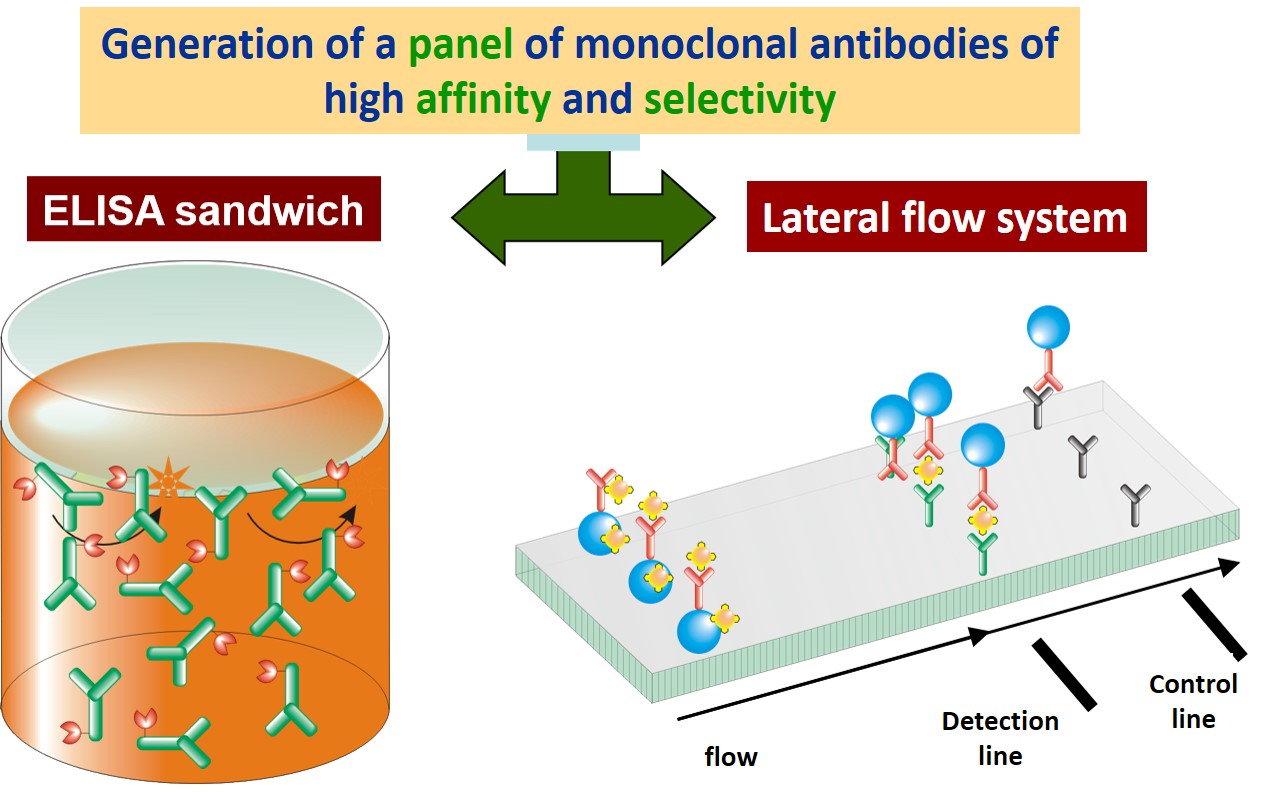 Development of immunoassays in microplate ELISA format and lateral flow systems