→
 Project reference: PET2006_0423_00_01

Summary
   According to the initial objectives of the project, the results transferred to the company consisted of an ELISA kit that allowed the quantitative determination of CPPU in horticultural samples, especially grapes and kiwis, at levels well below the maximum residue limits established by the legislation.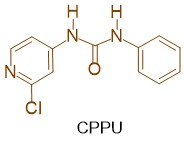 This kit was based on the use of monoclonal antibodies, which were generated by a series of functionalized analogs of CPPU which needed to be synthesized. The actual utility of the kit was tested by determining residues of CPPU in grapes and kiwi fruit and by comparing the results generated with those obtained using a reference technique such as HPLC-DAD.
   The ELISA kit for the determination of CPPU that was developed within the framework of this project is the first developed worldwide for the quick, simple and economic quantification of this important plant growth regulator. This kit constitutes a valuable analytical tool for farmers, cooperatives, distribution companies, analytical laboratories and regulatory agencies for the determination of CPPU in fruits.